18th January 2006




Wellington was sad to see us go.
Driving in to the airport the weather was so bad that we couldn't see Somes Island and I worried that we weren't going to be able to fly.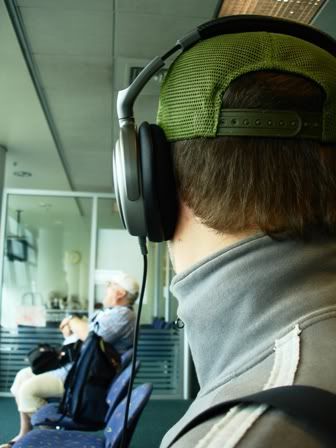 Craig kept putting on his giant giant headphones so I had to make my own fun mainly by seeing if he would turn around every time I did - yep.

The flight up to Auckland? 45 minutes in the air and I read pretty much the entire time.

We arrived in Auckland at 2:05pm, and our international check in time? 2:10pm.
And it's a 10 minute walk just between the domestic and international terminals! We power walked it and my poor poor legs screamed at me. I didn't even have time to use the bathroom.

Also - when we were leaving? we were at the budget exit. We had to get our boarding passes ripped and then get on to a Bus. Filled with old people and a couple of families with children. yeuch.
The bus did take us to an actual plane, a regular medium sized plane, for which I was very thankful.




Leaving Auckland.

The flight to Norfolk is just under 2 hours. Not long enough to play a movie, but long enough to play annoying episodes of Futurama and Will and Grace.
also - Air New Zealand food is really ok, and they serve free drinks and give out lollies for descent, so I forgive them for that one time about 3 years ago when they didn't call and tell me that my flight was cancelled.




We flew over the three kings islands.
I didn't notice until they were there ... very bottom left.




As I was using my old (and actually, still current) passport, so I had to use my maiden name.
But both Craig and I got to select "Now Married" on the declaration form.




Norfolk Island.
yes those are Norfolk Pines, yes they Are endemic to Norfolk Island and yes it's strange to see them mixed in with palm trees as I think of Pine Trees as being covered in snow.

We de-planed at the tiny little aeroport and walked into heat that felt so sticky after the dehydrating air conditioning of the plane - I think it was actually only 25C. The building where we collected our luggage? had no airconditioning. I was bummed.

It felt so small, everyone from the plane still standing around waiting on the baggage handlers who we could see out the door to our left. Tiny Tiny airport. NO AIRCONDITIONING.

Our bags FINALLY came around and we walked through customs (passport stamp!) and out into more of that stupid heat thing. A very cheerful Australian lady accosted us
"So, who are you with?"
"uh - him?"
"no no where are you staying"
"Oh, the South Pacific, we have ... transfers?"
"your names?"
"Burke ... and Mulligan"
"hm. there's noone here for you. just a sec. Chreees? Chreees? are you going by the South Pac? ... right. Chris'll sort you out"
"uh okay, thanks"
We were ushered on to the oldest bus in the world, along with another couple from the plane. In the confusion and the bustle and the "CHREEESS?" we'd been apparently booked on a free half day tour the very next day. Or at least that's what the brochure in my hand said.

We were driven to our hotel, everything we passed seemed dilapidated, dusty and rusty and fading. A lot of pine trees, a lot of palm trees, cows and old-people stores. uhoh.

The South Pacific Resort Hotel.
it certainly wished it was.
We walked in to "hi! is this Craig Burke and Sarah Mulligan? or is it Sarah Burke now?" which made me smile.
I was feeling drained and far too hot (I was wearing jeans) so I faded in and out, drinking the 'complimentary cocktail upon arrival' which was also completely non-alcoholic and disappointing, as Craig and the other couple from the aeroport listened to information about towels and rental cars and I don't even remember what else.

We were shown to our room. Again, NO AIRCONDITIONG. I almost cried.
They'd left us a bottle of 'champagne' in an ice bucket which was kind of sweet ...
Craig turned up the near-ineffectual fan and we both stripped off, changing in to much lighter clothing.

I felt ... despondent.
I was too hot and sticky and I didn't feel at all like I was overseas.
So Craig and I decided on going for a walk as we were close to the town, and it was only 2pm.

As we were walking out of the grounds of the hotel a tree caught my eye - it was a Tiaré tree! the national flower of Tahiti and a flower I love in general, it smells amazing.

I walked over to take a photo (but I couldn't get it focussed) and went to go in closer when behind my shoulder I heard
"uh Sarah-Rose?"
uh-oh. Craig only calls me that when I've forgotten something or I haven't noticed something or ... what the hell ...
and as I looked around to him, I noticed something out of the corner of my eye, something which I was instantly certain had been what he was pointing out to me ...




a GIANT cobweb.
layers and layers of cobweb, all the way up taller than the Tiaré tree, which is taller than Craig, and all the way down to about my knee height.
And we counted at least TWENTY spiders in it like this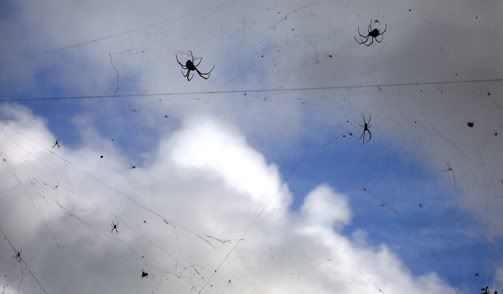 they were about 3 inches long. Each of them.
and the twenty we counted? didn't include all the ones that were obviously hiding in the trees and bushes waiting to eat me alive.
I jumped behind Craig and said "okay, I want to go home now".
yeuch.
I'd forgotten that on an island that was almost-australia, there would be almost-australian sized bugs.

The first day on Norfolk Island just kept getting worse.
Vaguely terrified, Craig insisted we were going to the shops. Which were closed. At 2:30 on a Wednesday. Oy.

We still looked around, at pottery displays and "My Grandma went to Norfolk Island and all I got was this crappy t-shirt" shirts, Craig's house of Knitwear and Perfume and Liquor stores. Oo Nice. Craig saw the lego stores and peered longingly through the windows.
It didn't take long until we'd exhausted the main drag. Norfolk Island is SMALL.

As we were walking back to the hotel, hand in hand, Craig remarked "I think I could live in a small town" and it was decided that I really really couldnt.

We had terrible overpriced chicken at the hotel 'restaurant' and went back to the room, where we watched Hurricane and I drank the terrible champagne.
I drank enough for both of us.

19th January 2006

We spent a lot of today going around and around the 8km of this island.
The free half day tour was in the morning, and I'm sorry to say that I actually found it interesting.
Sorry! I'm a history geek.

Norfolk Island was a penal colony twice over. The second time it was closed down was because it was just so violent that even Queen Victoria thought it was a blight on her empire.
It was finally settled by the children of the Bounty Mutineers, as their island (Pitcairn) was/is only 2km square, and they were over populated by 190 people. These 190 people settled Norfolk Island, and there are still a lot of people here who share surnames ... make of that what you will.

Our first stop was a church built by the Melanesian Mission (?) and it had a pretty green stained glass window.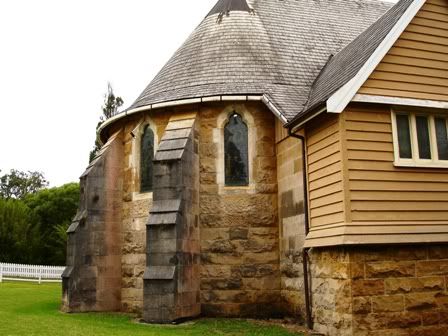 I forget what it's called. I want to say St Bathans, or St Barnabas.




Their fake graveyard.

Okay, not really, the original graveyard was down in a field and the cows kept knocking over the headstones, so they moved them up here, easier than moving the bodies. The field in which the bodies remain is marked with an obelisk. Cows still graze there, the obelisk must be harder to knock over.

They took us to a pretty pretty look out.
I don't remember why, but it's pretty.




The tour guide started telling stories. And he talked and talked and talked.
And I got bored.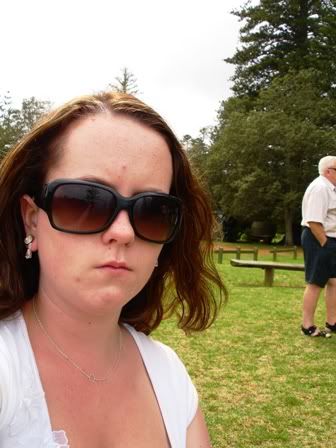 We drove down to Emily Bay, which is the only beach on Norfolk that is suitable for swimming. Almost all of the rest of the coast line is cliffs.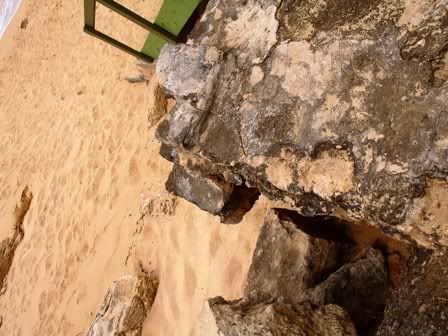 We could see out to Phillip Island.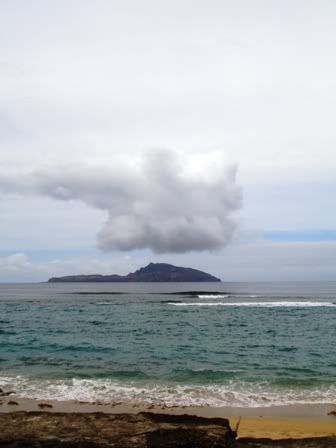 It's 7km out from Norfolk Island and the same size as Pitcairn Island (2km sq).
Norfolk seems roomy in comparison.
(I also love the cloud. poor eyeore island)

Other things we learned about Norfolk Island.
x There has only been one murder in the 150 year history
x All the electricity on the island is diesel generated, so it costs 3x as much as it does on the mainland (Australia). Hence the lack of airconditioners.

It started raining on the way back to the township.
Craig and I got off outside ... Hibiscus something-or-other where we had a rental car waiting for us.
I forgot that we didn't have any cash so we had to walk, in the rain, to THE ATM. the only one on the Island.
At least our eftpos cards worked there - it was fun putting in our New Zealand cards and getting out australian money. a little fun.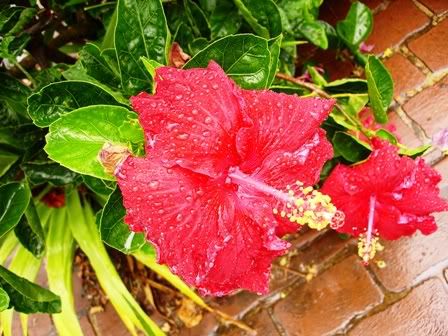 hibiscus in the rain.




our car!
look how freaking short the licence plate is!

We went back to the hotel and decided to go exploring the island. Sort of a slower and less informed version of the tour we'd just been on.

Emily Bay from a Peninsula :




The ruins.




Down by Emily Bay there are ruins of the old barracks, the pentagonal jail, the civil hospital and the ... crank house?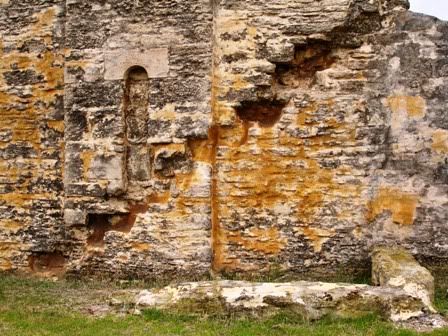 (where the external stairs used to be)




Husband found a hole.
He was going to jump in but we decided that there was no way I could get him out if he did.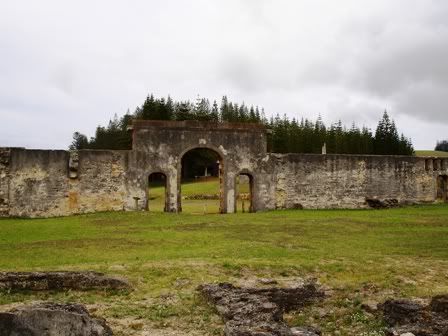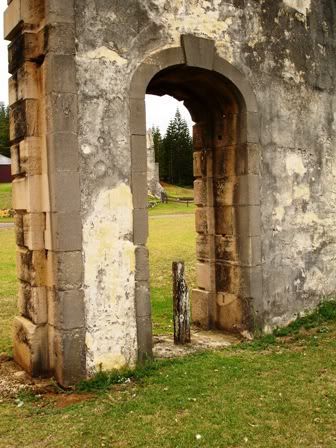 Looking up to the :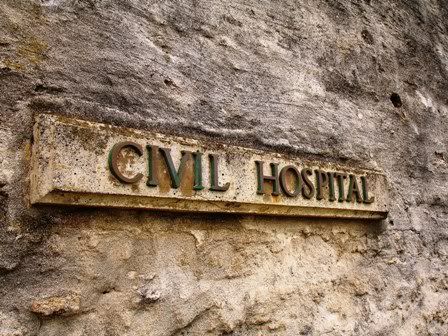 husband through the chimney




I took a photo of myself in the dissecting room.
As one does.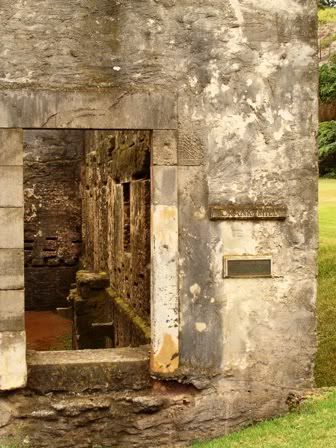 We drove around looking for a place with enough lego sets to sate craig's appetite. We found a tiny tiny store packed floor to ceiling. The one Craig REALLY REALLY wanted wasn't there, he bought the one requested by his brother (and Craig's second favourite) and of course decided to not get one for himself, despite my assurances that he'd regret it if he didn't.

That evening we made a stupid stupid decision and went for Chinese Food.
on a very white (or french-polynesian) island.
It was the blandest chinese food we've ever eaten, and overpriced.
(We were served by a kid who was wearing a pretty Tiaré necklace ... it sounds stupid now but I decided to half-look for one the next day. what? I really like the flower)
The place was empty. As with the night before we'd called up about reservations ... and were pretty much the only ones in the place.

We went for a swim when we got back to the hotel.
It was 8pm and we were the only ones in the pool. It was silly and romantic and fun - they had cheesy music playing from the 'bar' and we swum and kissed and stuck around until we were cold (it was a change!).

20th January 2006

It was friday and my clothes ended up smelling like woodsmoke, my hair thick with salt and chlorine.

Craig and I drove up to Mt Pitt - starting the day with the highest point on the island.
You can see horizon all around you, 360 degrees.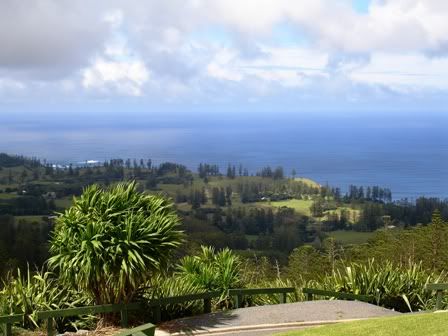 sea stretching off as far as the eye can see, til the horizon of blue-sky and blue-sea is blurred and paling.
It's an eternal cliché but it felt daunting. So much sea. So little island.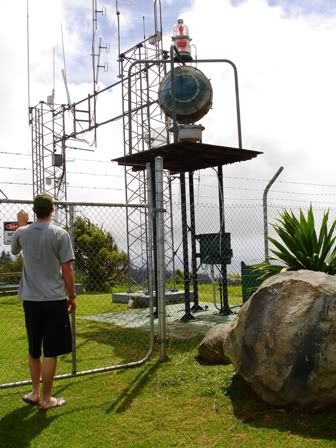 Husband found ... stuff. They have signs explaining everything, except of course the creepy chained off machinery.
We think the round thing is some kind of light.




(the only photo of us together on the island)

We went back to Emily Bay,




we laid out towels and for the first time since Tahiti I played around in the sea, Craig dug holes and we got covered in sand and salt and sunscreen.




Craig and I swum together in the ocean, salty kisses and his eyelashes stuck together.
We saw fish and decided to return with our masks.

After the beach Craig and I shook the sand off and went to a local (the local) deli to get some food for lunch - we ended up getting food that we needed to cook and went to a lookout called 'Cook's Landing', where you can see the inlet purportedly used by cook as his landing point 10/10/1774, and also one of the many places where the rangers have provided wood and concrete barbeques for the public to use.
So we did.
(I was better at keeping the fire going than Craig, even though we only got the wood to char)




We made a terribly smoky fire and cooked sausages which we ate with strange australian tomato sauce, coleslaw, bread and chunks of watermelon.




it felt so wholesome but it was fun.




we walked down past the view of the inlet :




(at the very bottom there)

and down to ... the peninsula, basically a cliff overhang where it was terribly windy, but overlooking sheer cliffs that are pretty much inaccessible save by birds and fish - so so blue.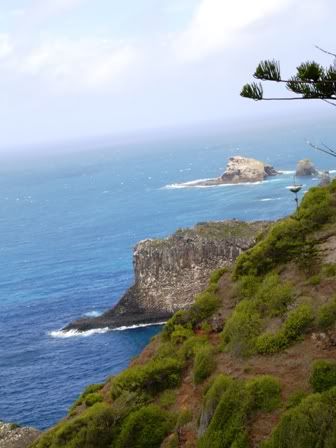 the water really was that blue.
so blue.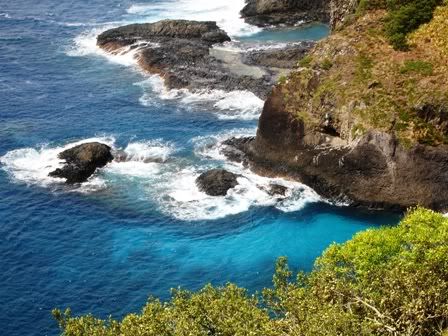 On the way back through town we stopped at the bond store and spent too too much money on cheap liquor (duty free plus 30% off for travellers).
The next place we stopped was a perfumerie where we tried to test perfumes but our hands (and hair and clothes and everything) smelled like smoke.
I was floored when I found Hot Couture by Givenchy, as it's been discontinued, and I bought the self-titled perfume by Lolita Lempicka - both scents I have loved since Tahiti.
I also loved Stella by Stella Mcartney but it was too much on top of the rest, husband wasn't a fan and it's practically the signature scent of Kat.

The perfumerie was close to the South Pacific so we went back to the room where we felt so sticky and sandy and terrible that we went back to the hotel pool.
Again just my husband and I in an empty pool. chlorine kisses and his eyelashes stuck together (so beautiful).
Long haired children showed up and ruined our newlywed time.

We decided on pizza for dinner - safe enough we figured.
Because I'm picky we called for directions (everything just said "Taylors Rd" - it's the only main rd and it's not that short. gah) and the instructions were "cut across the mini golf course and turn right. the blue pitched roof right next door".
oh.

it was amazing!
we had pizza and gelato and coffee and all of that? was less than each of our previous dinners, and at least twice as nice.
We talked about how 13s were related to the wedding (rehearsal on friday 13th, seated in row 13 and then that night table 13), what our last meals would be and we walked home in the dark.
the pitch black dark.
They may have more than one street light, but there are still only about 5, and none where we were walking.

21st January 2006

Our final day on the island. And we still couldn't get hold of the scuba guy, the most we heard was that he might be off the island. very freaking convenient.
It still ended up being a water day.
As it was a saturday the shops were only open until 12 so my husband trailed up and down the main street looking for the perfect Tiaré necklace, we looked for more lego but still didn't find the truck that Craig wanted, and he refused to buy himself anything else. It took about 5 different souvenir shops and I still hadn't found my necklace, I was settling for a second favourite when I asked the elderly man behind the counter who disappeared into the back and came back with a necklace all but identical to the one I'd originally seen! pretty.
(I also bought violet perfumeria gal balm in an art nouveau tin)

It was overcast all morning, but we really wanted to go to the beach.
We decided to drive the long way around the island in the hopes that it would clear up by the time we got to Emily Bay.

Along the way we saw Nightmare Trees.




AKA Moreton Bay Fig Trees.




I didn't want to get too close, but the part off to the right? snaking past (EATING) the other tree? it was pretty much as tall as me.


nightmare trees


(just looking at the photos creeps me out a little)

and you know what?
the drive did it, because soon after we got to the beach, it cleared right up.




We used our snorkels and masks and swam out to a pontoon in the bay, seeing ghostwhite fish along the way.

the water was so amazing (and since I knew it would be our last chance) I didn't want to get out. Craig got out and covered up to save himself from the sun, and dug another hole.

This time he played Lieutenant Dan.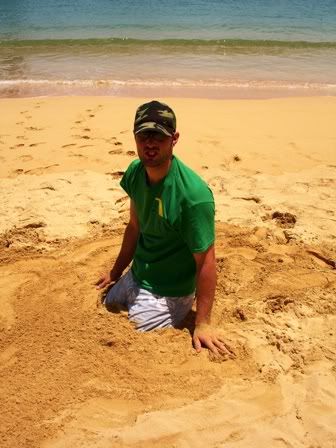 and I took photos in the water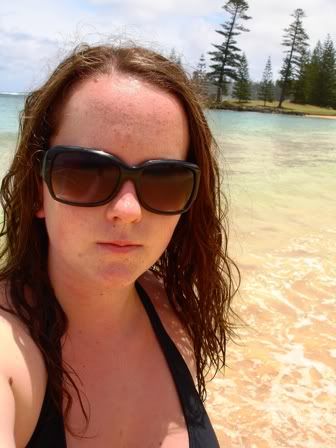 salt heavy hair.

and when Craig went out to wash the sand off? guess who wanted to go back out to the pontoon?
So I ended up drifting around in the water, watching him jump off the pontoon and actually make a flip into the water.
I had my giant sunglasses on and felt like a silly movie star. I should have also had a cocktail.

We had lunch on our way back through town at 2pm.
Pretty much the only places still open were the cafés. Everything closes at 12 on saturdays, and isn't open at all on sundays.
We had lunch at a café and I ordered a chicken salad sandwich. It turned out to be pretty much bigger than my head!

Finishing up on the Island we returned the rental car, walking back to the hotel and stopping off to take photos of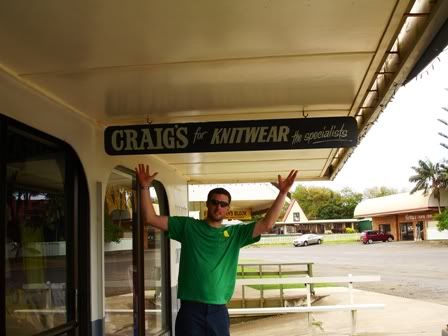 Craigs for Knitwear : The Specialists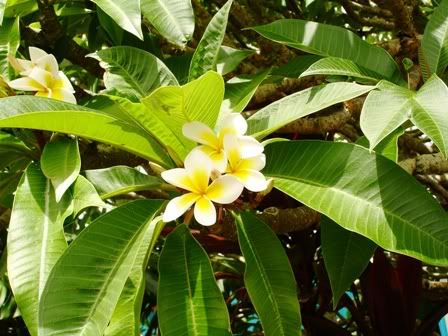 tiarétiarétiaré




the entrance to our hotel.

We packed our bags, ending up with far far too much stuff as carry on (but still within the limits) and Craig realised that he couldn't part with the lego.
Of course at that point it was too late to buy another for his brother, so we decided instead that Craig should listen to me much much more because I knew that this would happen.

We decided to go back to Pizza on Norfolk for dinner, we felt a little silly, but really I couldn't face having a terrible meal on our very last night.
And it wasn't terrible. it was as amazing as the night before. Tiramisu and Cassatta gelato. gah.

Upon our return to the hotel Craig and I went for a final swim in the hotel pool.
Earlier that day a tour group of elderly people had arrived at the hotel, and they were availing themselves of the Barbeque Buffet so our vespertine swim garnered some bemused looks.
We swam around until I started shaking.

22nd January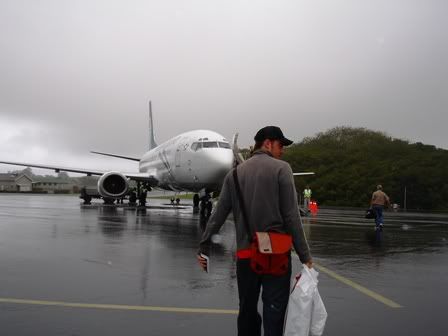 Norfolk Island was sad to see us go




Husband and Wife spent the day travelling back to Wellington.
On the flight back into New Zealand we lost an hour and a half, and Craig kissed me on the descent into Auckland as it was bumpy and I hate that.

While Craig waited for our suitcases I bought a bottle of Peach vodka and heard yet another specification as to how many litres of spirits one can bring in to New Zealand in any one go.

We met up with Craig's parents and went out for lunch, and looking around a local mall. We had 3 hours to kill and it was better than being stuck in the airport!
Craig bought amazing bright orange and purple and black dunks. And he got to say to someone "oh nah, I'm just here with my wife" which he told me with a grin on his face.

I spent the flight from Auckland to Wellington sulking because Craig and I were split up. I had to sit next to a scary looking boy who wore no shoes. There was a space next to me!
The stewardess at Norfolk Island must have hated us.

In wellington we were met by my mother and promptly delivered back to my familial home where we had dinner with my family and Erin, and Kirsten, Adrian and their children came over for dessert and we looked a million photos, the Norfolk Island ones and then also the professional wedding photos!
very exciting.

Craig and I were fading at 10 which is when we were delivered back to our house.
We arrived home to a letter from Births Deaths and Marriages telling us we weren't really married.
That was the biggest downer ever.
I went to bed teary-eyed, distressed until I realised that Craig and I were as married as we were on the day of the wedding, and Tisha would be able to fix it.

at 5:50 the next morning my alarm went off and real life as Sarah Burke began.