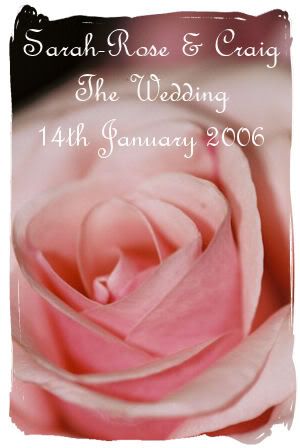 I woke up early on the 14th.
I always knew I would, I can never sleep late when I'm excited or nervous - plus my hair appointment was at 9 so we couldn't stay in bed all day.
I had been in a terrible mood pretty much all day on the 13th but spending time with Craig in the evening made me much much calmer than the Rescue Remedy I'd been pounding ever could.

At 7:20 I was lying awake in bed and Craig turned over and smiled at me
Craig : Happy Wedding Day baby
Me : Happy Wedding Day.

I padded around the house all barefoot, thinking about how my nails were done, and I was already wearing my gauged earring for the wedding, making sure all the bags were where they needed to be so that I was as ready as I could be.
I sat outside on the back step and saw that the ground was wet - it had been raining overnight. And the sky was somewhat grey - but I hoped that was just because of the time.
I took deep breaths and thought about how I was going to be married, my name was changing, that I would be tied to Craig forever (always in some way). And after a couple of minutes spent staring at rain drops on the flowers outside our house I realised that nope, I wasn't scared, I was barely even nervous.

I looked in at Craig asleep again.
I love his face so relaxed.
Then, listening to a song written and performed especially for our wedding by one of my closest friends, I cried.

The Middle by Kat McKenzie

So this is what I know for sure
That when a brown-eyed girl met a blue-eyed boy
It set the world afire
And the light could not be kept from any door

And I've seen what no one else has seen
And I've been where no one else can be

I don't want the end
I want the beginning and the middle with you
All holes we can mend
I want the beginning and the middle with you

I'll see the middle with you..

And every day before you came
Were just in waiting for the one I knew would fit
So when you looked my way
Something stirred inside me, more than I'd admit

Don't want to face each day alone
Can't unearth all these seeds I've sown
In us
I'm happy when I know you're home
Your voice on my telephone

You're my own
sweet
dream

So let me kiss you just once more
Before I know that I can do it for all time
Bind our hands as one, this day
So I'll be sure that I am yours and you are mine

And I'll be wherever you will be
And I'll see whatever you will see
And we'll be whatever we will be
now

We can't see the end
I'll have the beginning and the middle with you
All holes we will mend
I'll have the beginning and the middle with you
I'll see the middle with you..

I know this time
Know this face
Know what's coming around
I know I won't be this
With anyone
With anyone but you

I don't want the end
I want the beginning and the middle with you
All holes we can mend
I want the beginning and the middle with you

I'll see the middle with you.


Let's have the middle..

We sat together on the couch and ate breakfast in near silence.
I may have been in a better mood but I was still dreading the hours I was to spend apart from him - what if he got nervous? what if I got nervous?
The plan was that he would drop me off at my parents at 8:50am, my Mum, Charlotte, Jayne and I would go to the hair appointment (meeting Petra there) and Craig would go in to the Wellesley to start setting things up on the tables etc.
We (the girls) would come back to my parents place, have lunch, and go into the Wellesley at about 2 to get dressed.

I showed up at my parents place at 8:50 (always punctual) but they weren't ready to go.
Erin, a distant cousin from Canada, had arrived the night before and needed some clothes to wear to the wedding (backpacking around New Zealand, and working in a vinyard does not really require evening wear). We eventually left probably at about 9.
My hair took the entire Three Hours to do. Three Hours. Just my hair. Jeez.
Charlotte, Jayne, Petra and Mum had their hair done by a couple of other hair dressers and we ended up sitting around reading magazines and talking.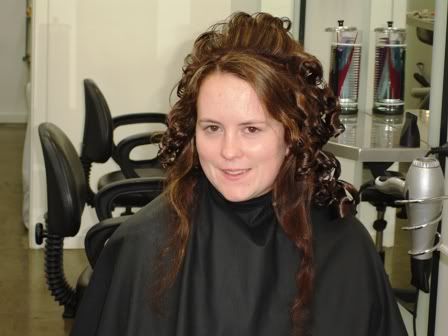 I felt like a country singer.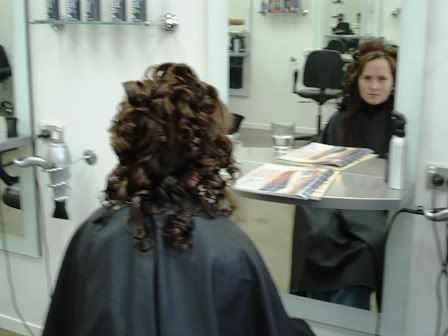 I ended up with my hair completely done, and with my tiara and veil comb in it ... it felt very strange walking out of the hair dressers knowing I was walking down the street in jeans and a black singlet with a freaking tiara on my head.
I also felt pretty.

We arrived back at my parents place and Craig's car was still parked outside.
I was surprised that he would even take the chance of seeing me - this is the boy who didn't want to see the shoes that I bought because they were part of my wedding outfit!
It turned out that he wasn't there and I felt a little ... disappointed, because I always look forward to seeing him.

We sat around and had lunch - my mother said she was celebrating my wedding by eating bread. ha.

Petra and I hung around and talked - I tried in vain to concentrate on an article about David Bowie, and she did her Maid of Honour Duty and ensured that the cards were stuck to wedding presents.

I'd always thought people were kind of exaggerating when they talked about the weather being fine just in time for their special day, but the weather gods were kind to us as well. For the week before the wedding I kept checking different weather websites trying to gauge what the likelihood of rain was, because while the ceremony and reception were all inside, our chosen spot for photos was outside. All the weather organisations led me to believe that there might be showers, that it would probably be cloudy, but that it should fine up ... fine but grey was the consensus.
And yet the sky was blue. It was almost insanely warm, and standing in the exterior doorway in my parents sun room I felt as though I could possibly get sun burned.

Craig showed up at about 1, 1:30. He just walked on into the house and I half heartedly said "Oh no! baby! you're not meant to be here" but he smiled so wide, took my face in his hands and kissed me ... I'll let that boy have anything.
He walked out to talk to the rest of the family (and meet Erin, and my Aunt and Uncle who were staying at my parents place) and Petra came up to me "Feel calmer now?" "yea. a lot"

one last photo as an unmarried couple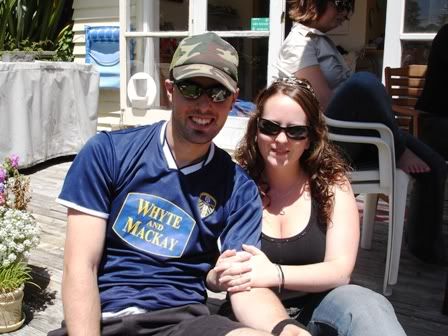 At 2 o'clock we piled everything into the car - 5 girls, 3 fancy dresses and one fancy skirt, a suitcase and favours.
I got a flutter of nerves - everything we did was sort of "This. Is. It" leading up to the wedding.
People kept asking if I was nervous which did NOT help.
We picked up the flowers which were much much more than I expected them to be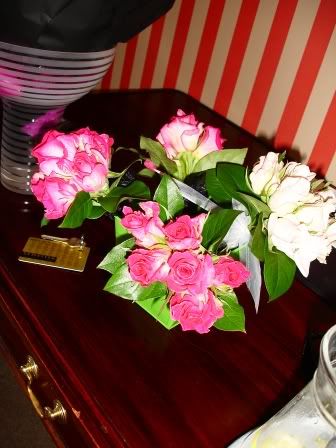 The hot pink bouquets were exactly the kind of roses that I'd had in mind, but all I'd specified was Hot Pink and my pale pink bouquet was so pale, and so antique looking that I was completely relieved that I'd been told a last minute change to white roses was not possible.




The Wellesley Hotel.
We went up to our suite, the Honeymoon Suite, AKA the Blundle Suite.
It was a gorgeous room - I was greeted by a beautiful bunch of flowers that I at first assumed were from the Wellesley, until I read the card.




We're sorry we missed such and Amazing day!
Love you both very much,
Your Aussie boys T & R

I almost cried (the first of many times that day), it was such a sweet thing for them to have done,especially since I was severely disappointed that neither of them were going to be in the country and thus couldn't have made it anyway.
Plus - pink and black? those boys still know me.




My cousin Cherie called from Hong Kong, to wish me luck and say she was sorry she couldn't make it - it was nice of her to call, but she kept trying to calm me down - I was the calmest out of everyone in that room!
Petra was freaking because we had decided she would do all the make up for us ... and didn't really bring exactly the right stuff.

I ended up taking photos of the room as we sat around trying to not touch our hair, and watching C4 (the music channel)




the very strange picture in the room - slightly menacing




One of my Must-Take personal photos was a shot of me in the claw-foot bath, because I just adore them.
If they made claw foot jacuzzi baths I would be in heaven.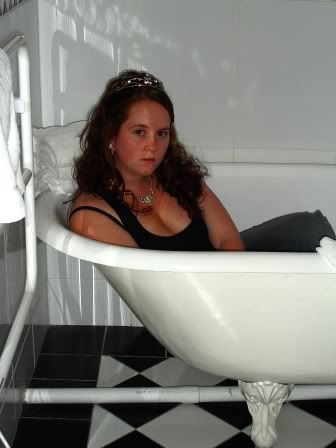 The bathroom was so white that I look deeply deeply tan, when I'm actually the whitest person I know.




(Mum's skirt was amazing. I just loved the colour, and it was very flattering also)

Mum kept popping down to check on things around the rest of the hotel. For which I was very thankful, because I really wanted to do that also.

(The professional photographers took some photos of the venue which I hadn't thought to ask for and I'm very glad to have)




I did ask for one venue-related photo - the painting hanging in the stairwell, just about Jayne and Charlotte's heads




It's an original Goldie, who is a very big deal in New Zealand painting.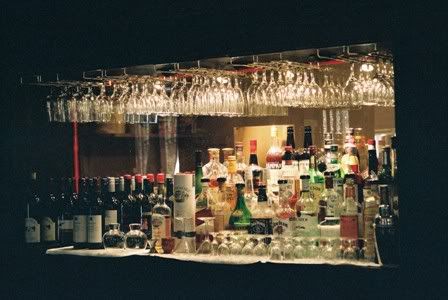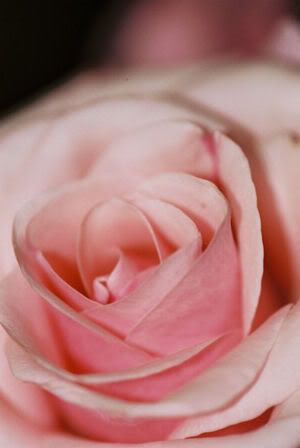 4 very long stem roses in this colour were laid along the middle of each table, and there was an enormous vase of them on the sideboard as well. They smelled amazing.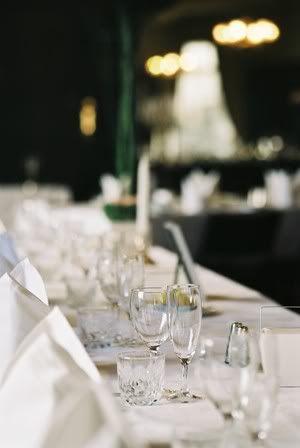 The Head Table aka Sweet Home Alabama

Each of the tables was named after a movie Craig and I love, and had a quote from the movie accompanying it :

Sweet Home Alabama
Melanie : What you want to marry me for anyhow?
Jake : So I can kiss you any time I want

Labyrinth
Jareth : Everything I've done, I've done for you. I move the stars for no one.

Love Actually
Jamie: I love you even when you're sick and look disgusting.

Empire Records
Lucas : In the immortal words of The Doors, 'The time to hesitate is through.'

Pirates of the Caribbean
Jack Sparrow: A wedding? I love weddings. Drinks all around.

Garden State
Andrew Largeman: I don't want to waste another moment of my life without you in it.

People really liked the idea - even if they didn't know what all the movies were.


Mum kept sending people up to the room - she sent up Kat and Mary to say hi and ... I don't know, I guess she thought it might have kept my mind of the nerves which I did Not Have, but it was nice to see them and say hi and leviate some of the boredom I was feeling - there's only so much music TV and calming of bridesmaids one can take.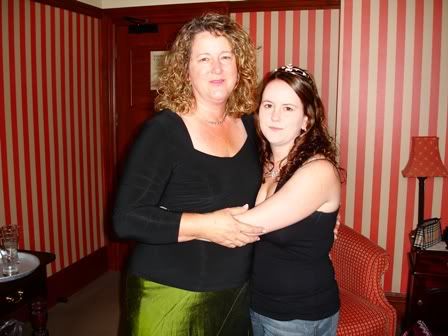 One last photo of Mum and her unmarried first born child.

People started arriving at 4, my parents were downstairs greeting people and mingling - I presume.

My little cousins handed out programmes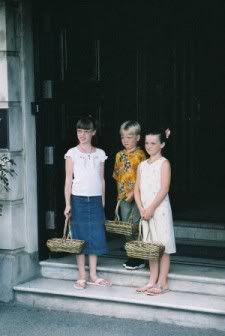 Rose, Conor, Beth
We included them not only because we love them, but because my sisters and I were involved in the wedding of their parents 10 and a half years prior. I sang, and we all handed out the hand-painted stone favours.

I like this photo of my dad shepherding my grandma inside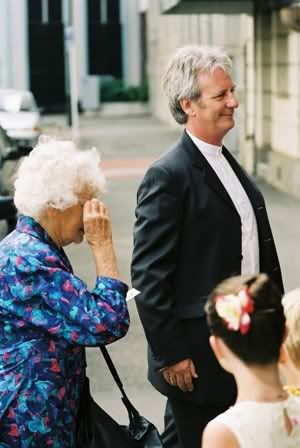 he thinks it looks like a paparazzi court arrival photo - I say that's what I like about it.

I ended up getting ready at about 4:10pm. I was expected downstairs at 4:20pm.
Everything went smoothly, I got the underwear on and the dress done up, and I looked in the mirror and felt ... not like a princess, not terrified, the feeling was less than I'd been led to believe by movies. It was a definite "... huh" happy moment.
I looked in the mirror, saw a bride and thought "yes, that's me." no nerves, I felt very right.
and far far too hot. I don't think the room was air conditioned.

I walked out of the bathroom to Oohs and Aahs from my sisters and Petra. I couldn't stop smiling.
Charlotte grinned and said "you're getting married!!" before giving me a hug.
I like my sisters more and more every day. (I mean, I've always loved them, like is different) I'm so glad they were with me.

Then.
I Lost The Ring.
I could not remember which of the "okay, I won't forget it there" places I had put it - it wasn't out on any surface and it wasn't in any pocket, and I hoped it wasn't in my bag because my Aunt had that downstairs!
That was when the nerves kicked in. kicked in BIG TIME.
My mind was going a mile a minute, but nothing useful, just "no. no no no no No. you did NOT just lose his ring. How freaking cliché is that. You MUST have it around here somewhere. Idiot. idiot idiot idiot. come onnnn just find it already we have to go"
Finally I found it, in the shut ring case, in between Craigs jeans a shirt for the next day, in the closed cupboard where I'd put the things he needed for the next day so that they didn't get in the way - it was SO not a "I won't forget it there" place!

Everyone took a large dose of Rescue Remedy (I don't care if it's psychosomatic as long as it works) as my Dad showed up to the room with Tisha (the celebrant). She was coming to check I wasn't pulling a Runaway Bride (But I'd have to pass Craig to get out of this place - not exactly subtle) and she disappeared pretty quick as it was time for her to get everyone organised for the ceremony and for Dad and I, Petra, Charlotte and Jayne to take the lift down to the second floor and wait for the music to start.

I was shaking.
But being very very quiet as, I suppose, I hoped noone would notice the sudden onslaught of nerves.

On the second floor landing I peeked over and saw the top of Craig's head.
My heart stopped for a second, then beat so fast.
I stood close to the wall so he couldn't see me.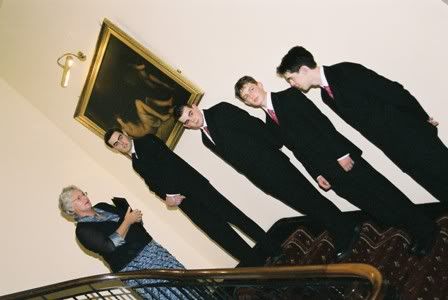 I heard Tisha say ... something ... and then the music (Reflecting Light by Sam Phillips) started and I felt the urge to grin and the urge to cry at the same time.

Petra led the way down the stairs, followed by Charlotte and Jayne.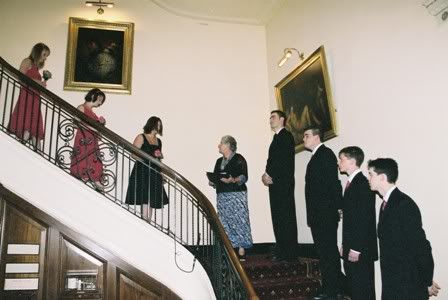 I love this photo because everyone is focussing on walking, or getting people arranged, or staring off into space (kieran), but Craig looks like he's watching for me ♥

My beautiful sisters




Dad took my hand, said "you ready kiddo?" ...




never more so in my life.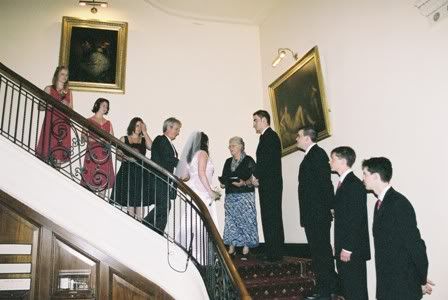 And now that I've worn, I've worn out the world
I'm on my knees in fascination
Looking through the night
And the moons never seen me before
But I'm reflecting light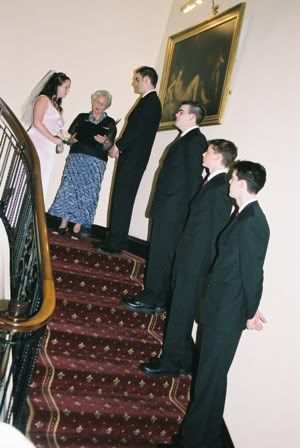 Tisha started :
Marriage, Marriage is what brings us together today. Marriage, that blessed arrangement, that dream within a dream …

We have gathered here so that Sarah and Craig may marry each other.




Love Sonnet by Pablo Neruda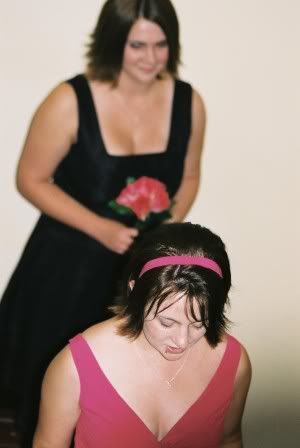 I love you without knowing how, or when, or from where,
I love you simply, without problems or pride:
I love you in this way because I don't know any other way of loving
but this, in which there is no I or you,
so intimate that your hand upon my chest is my hand,
so intimate that when I fall asleep it is your eyes that close.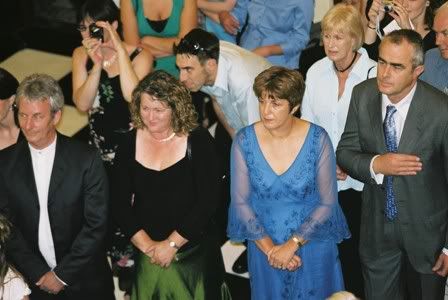 (Craig was holding both my hands because they were shaking so much.)

Craig: Sarah, I have lived with you and I love you. Today I give myself to be your husband and I take you to be my wife. Whatever life may bring, I will love you and care for you always.



Sarah: Craig, I have lived with you and I love you. Today I give myself to be your wife and I take you to be my husband. Whatever life may bring, I will love you and care for you always.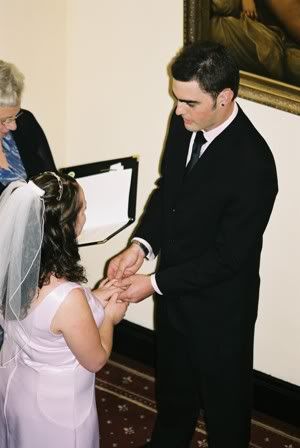 Sarah, I give you this ring as a token of the vow made between us, and as a sign of my love and affection for you.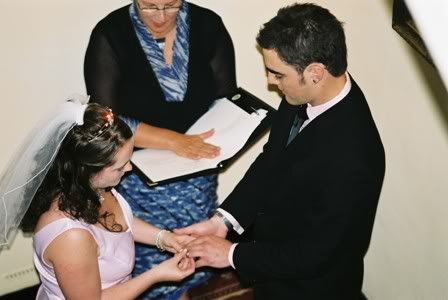 Craig, I give you this ring as a token of the vow made between us, and as a sign of my love and affection for you.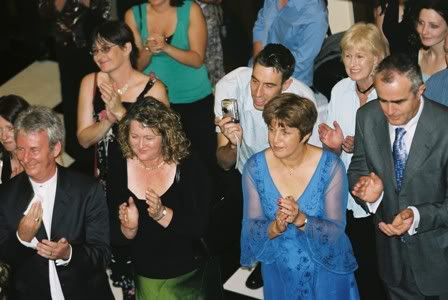 I now pronounce you husband and wife.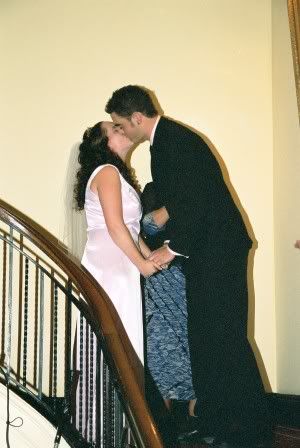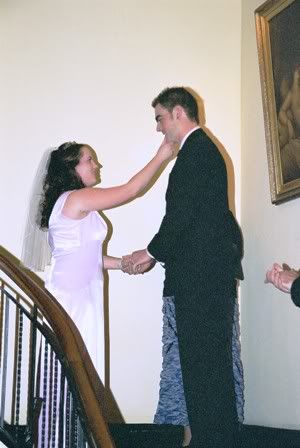 Just then I realised that Craig was completely clean shaven for the first time in our (nearly) 5 & 1/2 years together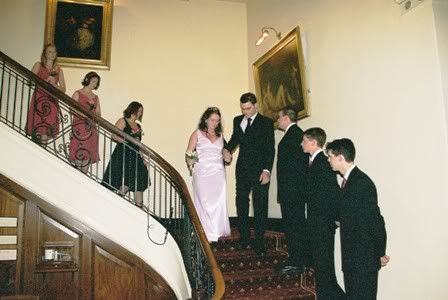 I was still shaking.
The blood was racing around my body, I felt euphoric and relieved at the same time. It made me attractively blotchy.
Now we just had to (try and) make it legal.




It was hard to pick up the heavy gold pens.
I barely noticed them at the time - i was too busy trying to remember how to spell my own name, and remember my address, and I sort of assumed that the Wellesley had set out their fancy pens for this exact kind of occasion.
But no, my sneaky, sentimental father had bought fancy parker pens and had them engraved specially - I was signing with Craigs.




mine reads Sarah-Rose and Craig. It was especially sweet since on the pen my first name is hyphenated, and he doesn't like that so much, but he did it because I like it that way.
So. Sweet.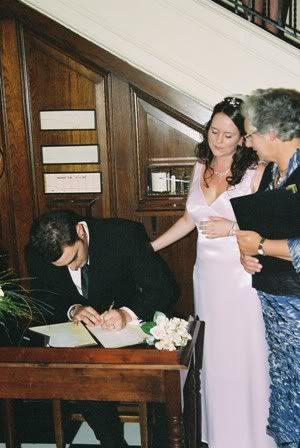 Kat performed Lovesong, and I had to hold back tears - she was/is amazing.




However far away,
I will always love you,
However long I stay,
I will always love you,
Whatever words I say,
I will always love you,
I will always love you

Petra and Kieran were our official witnesses




(apparently at this point some stranger walked down the stairs. They closed the front entrance but obviously forgot to put any sign or anything at the top of the stairs telling them to use the lift instead. But I didn't even see the guy so I'm not bothered)




and Tisha makes it legal




We had to go back up to the landing for the dismissal - including a piece written by Madeleine L'Engle that I chose :
There comes a moment when a decision must be made. Ultimately two people who love each other must ask themselves how much they hope for as their love grows and deepens, and how much risk they are willing to take.

To marry is the biggest risk in human relations that a person can take. If we commit ourselves to one person for life this is not, as many people thing, a rejection of freedom, rather it demands the courage to move into all the risks of freedom, and the risk of love which is permanent; into that love which is not possession but participation. It takes a lifetime to learn another person. When love is not possession but participation then it is part of that co-creation which is our human calling, and which implies such risk that it is often rejected.

Because it is in the nature of love to create, a marriage itself is something which has to be created, so that, together you become a new creature.

and then it was done




It is with great pleasure that I ask you to welcome amongst you as husband and wife, Craig and Sarah Burke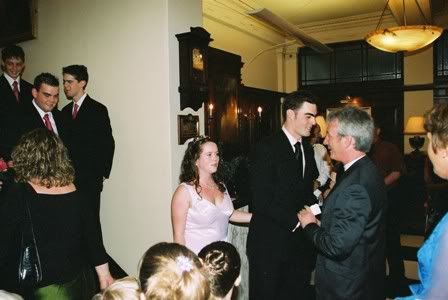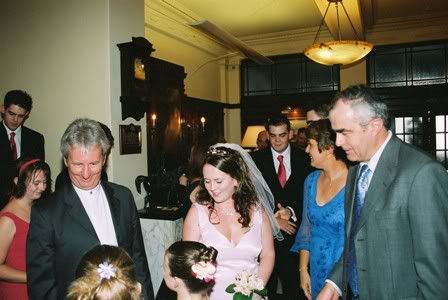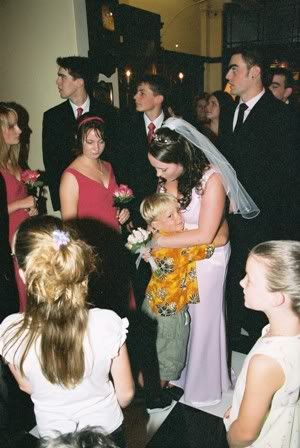 My mother herded everyone together for an entire wedding photo - everyone who attended the ceremony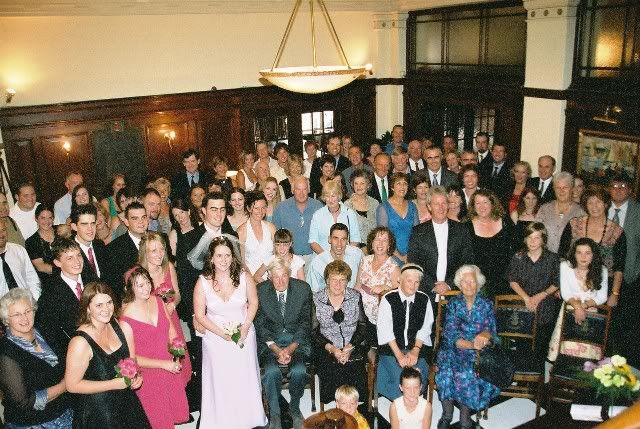 it looks like quite a lot.

At that point I had stopped shaking, but I couldn't stop grinning - Craig kept squeezing my hand.
For some reason I was very very glad that I had decided to wear a veil.

We had Family Portraits in the entryway to the hotel




with my Grandmother first - she kept wondering what all the fuss was about, silly old broad.
(I mean fuss as in photos of her, at that point she was fine with the whole It's A Wedding thing)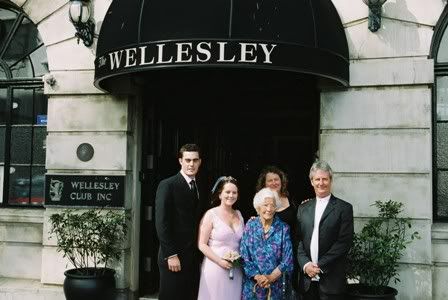 Unfortunately my parents were busy trying to keep things organised so there aren't enough photos of just us and them - a tiny regret.

But I like this photo :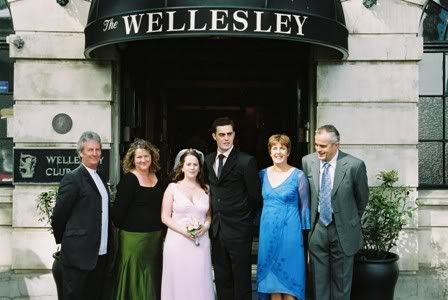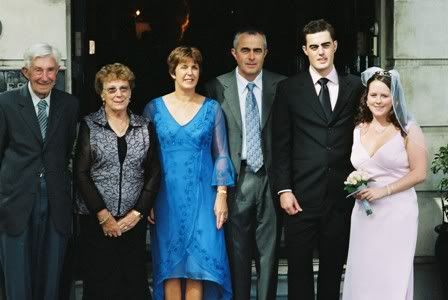 Craig's Grand-dad, his Step-grandma, Mother-in-law, Father-in-law, Craig and I




(one of my favourite photos. Actually taken by Craig's aunt and not the professional guys)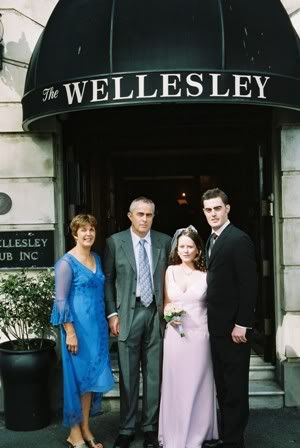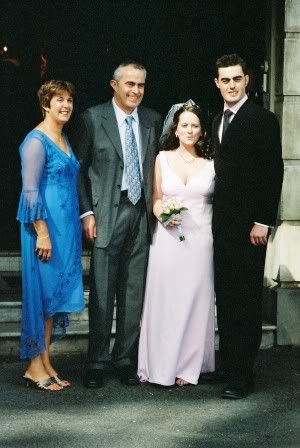 everyone again.

Two taxis showed up at that point to take us over to have our non-family wedding photos taken at a nearby garden.
Everyone was laughing and having fun, the girls all piled into one taxi, the boys into another, Craig and I kissed and went in different taxis.
It was strange piling in to a car wearing a long long dress and a veil - I don't know how girls do it wearing huge poufy dresses.

Earlier in the year Craig and I had chosen where we wanted our photos taken - Bolton St Cemetary.
We really, honestly, only chose it because it was so pretty and verdant, and there was a lovely chapel/museum and it was all kind of gardens-y and classic looking.

It was Really hot. When we weren't actually in the photos, we were trying to stand in any shade possible!




The Wedding Party
Jayne Mulligan, Charlotte Mulligan, Petra Lenihan, Sarah and Craig Burke, Kieran Davies, Simon Burke and Kieran Burke

Girls




Boys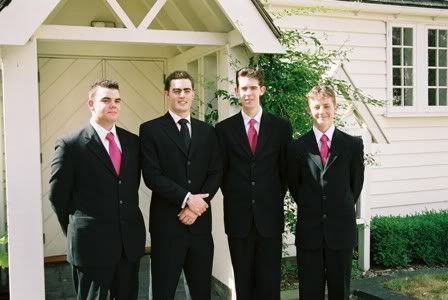 Kieran kept swigging from a playboy flask hidden in his jacket pocket and filled with vodka - apparently he was more nervous than Craig!
He's an ok drunk though, not bleary and slurry and horrible.

Siblings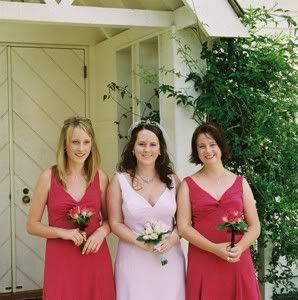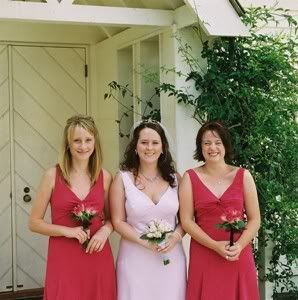 New Siblings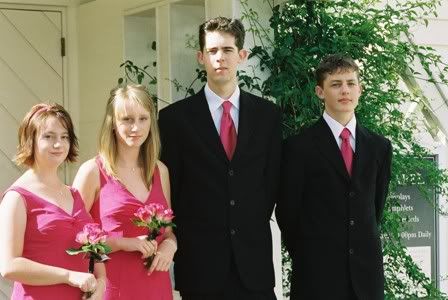 Narnia photos!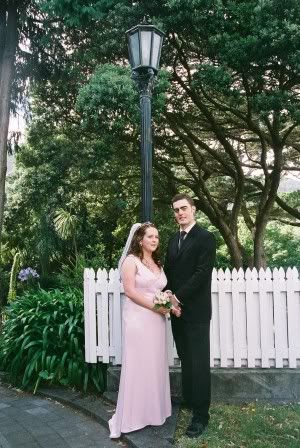 I love this lamp-post, but it does somewhat look as though it is growing out of my head.
I also love the photo because it shows off the mini train thing we did with my dress!




how can anyone not like laugh lines?
how can anyone not love a boy who makes me laugh like that?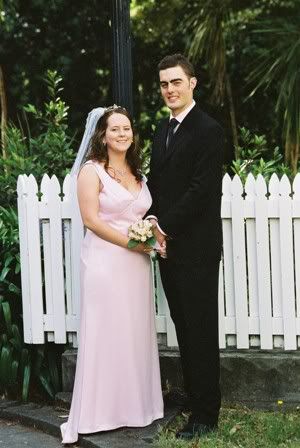 after the narnia photos we all trekked down a hill - I was taking teeny tiny steps and realising that my shoes really were a size too big, and so my feet were sliding down and felt like they were being sliced off around my toes.
ouch.

We took some photos on stone steps that didn't end up looking so good - but meant that the photographer had to take them while standing on the edge of the Common grave AKA MASS GRAVE and that creeped him out which amused me.




When we were 'scoping' out places to take photos, Craig found a $5 note exactly where he is standing in these photos - that decided it for him.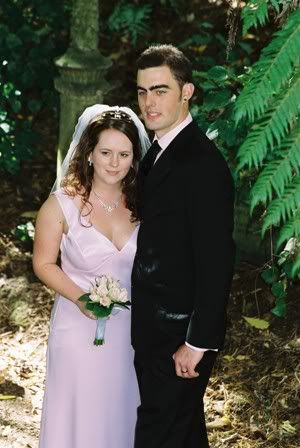 Upon seeing this photo -
Kirsten : Oh, that's a nice photo, in front of the old lamp-post,
Sarah : Kirsten? That's actually a grave.
Kirsten : ... Can I stick with lamp-post?
Sarah : Of course.




Craig and I are using mypublisher.com to make a coffee table book of wedding photos to give to each set of parents (and one for ourselves). A black and white version of this photo (AKA the superman photo) is going to be on the coverpage.

After the bush/grave photos we trekked back UP a hill - steps and a ramp - for some photos on a grassy area overlooking the MASS GRAVE.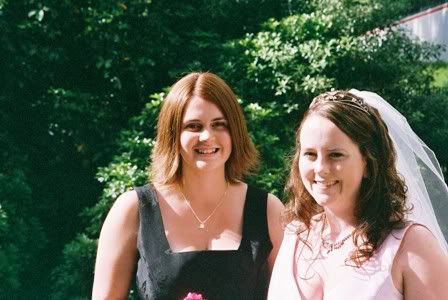 This is a very nice one of my Petra (MOH) and I - I should print it out and send her a copy.

We were now coming to the back of the Chapel that we started out in front of, the boys had collapsed on a bench. Smiling (and drinking vodka, KIERAN) can be tiring.




I collapsed on a bench opposite them because I was desperate to fix my shoes - but oh no, photos of us too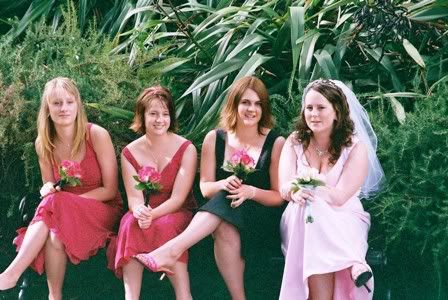 "uh okay i just sat down to fix my shoe but okay ..."




it was verry serious.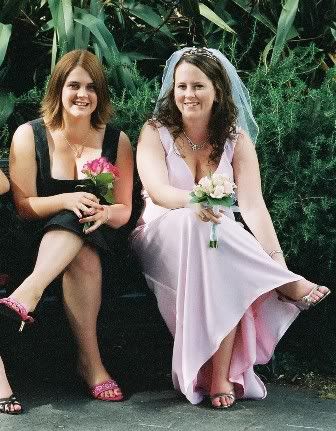 (in the uncropped version of this photo Jayne is making an insane monkey face)




They're actually photos I love. And eventually they did let me fix my shoe.




We ended up back behind the Chapel having some final photos taken.

Mike and the other photographer guy (I don't think we ever found out his name) set us up kind of like chess pieces - it felt weird but we let them do their thing, and the photos are great




they're actually technically brilliant, because everyone is in focus, and that's hard to do.




This one reminds us of the movie Big Fish!




This one is titled "Smell my pretty flowers Craig"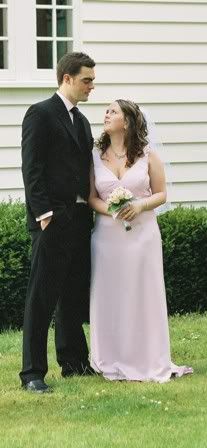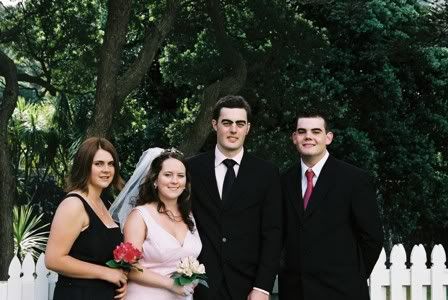 I like all the dark colours in this one.




pretty.

We piled back into the taxis - they'd hung around and waited for the entire time we were at the cemetary - and drove back down to the wellesley.
People started trying to corner Craig and I to talk but we had a couple of photos left to take actually at the wellesley




the stairwell




the stairwell and ... ghosts?




THE BISON HEAD!
it's really really huge.
Neither Craig nor I had seen such a large head mounted before... wait. I mean, we hadn't seen a bison head stuffed and hanging on the wall before, it's very very large.

At that point we were in the wine bar where all the guests were as well, we were caught and talked to be oh so many people, and then we actually made an effort and starting making around everyone, making sure we spoke to every single person for at least a little while.

I spoke to Sara Williams for a bit, it was so exciting seeing her




Sara and I have known each other since we were 2 Years old.
Our families moved in next door to each other on the same day, all 4 parents were teachers, they each had a blue lancer car, and their eldest (and at that point only) child was called Sarah/Sara (but pronounced exactly the same).
Our families have been friends ever since. Sara has been lving and teaching in Japan for the past couple of years, so I've not seen her.
It was a flying visit down to wellington pretty much specially for the wedding - she flew out of Wellington, to Japan, the very next day.




Lyn Meylan. I just really like this photo.
Incidentally Lyn's husband had called up a company that I answer phones for, and had spoken to me about a problem they were having with flickering lights, I wasn't certain that it was actually him so I didn't mention anything - turns out it was!

My little cousin Beth (you can see her flaxen bun and pink flower in those 2 photos) was my shadow - she wanted to hold my flowers (and ended up also holding Charlotte, Jayne and Petra's as well!) and wanted to talk about my nails and my ring and my pretty pretty jewellery - it was very cute.

We ooh-ed and aah-ed over little baby nicholas, only 7 weeks old but so adorable, and talked to my heavily pregnant cousin Cushla.
Cushla and Kirsten couldn't believe that we'd bough Craig's ring at the Warehouse for $80. But it was Titanium, and exactly what he was looking for so what does it matter where it came from??

At 6pm we started trying to get everybody upstairs as it was about time for speeches and then dinner.
After what seemed like forever I took Beth, Conor and Rose up in the lift with me and the upstairs room was practically empty! getting people upstairs hadn't worked too well.
The music was also off. I'd asked Craig to make sure he'd organised one of his brothers or a friend or SOMEONE to go upstairs before 6pm and turn the music on - and it hadn't happened. And I couldn't work out how to do it. Luckily Craig and my Dad both showed up about then and fixed it.

It was at that point that Craig came back over and sat with me and we breathed a sigh of relief after so much familial obligation speak and not enough us-kissing time.
Dad came over and pointed out what was on the sweet sweet pens, and Mum came over and told me how he was so sneaky she had no idea about his plan.




Beth took a photo of a happy but smiled-out Sarah and Craig (We still look happy though).

We had speeches which Chris filmed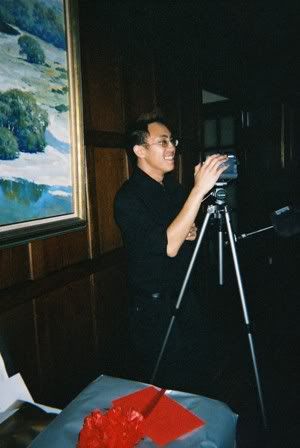 Both my Sister and my Dad made such sweet speeches, they made Petra cry, had me on the verge of tears, and made the decision to video the wedding completely worthwhile.
Craig's parents spoke and my Uncle acted as MC. My Uncle actually worked with Craig's Dad years and years ago so that was nice, he told a story about crazy driving.

We had dinner which was less than stellar, I had lots of great salad and a pasta thing which was good, but I also had chicken curry but that was so weak I couldn't stand it.
Other people ... seemed to like the food which was a good thing, or they're all impeccable liars.

Petra and I accumulated the bottles of Sauvignon Blanc down our end of the table and drank. a lot.

this photo of my sisters?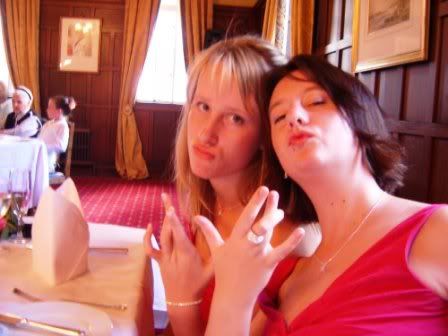 taken before any drinking. I love it.

Craig and I made our way around the tables again, I think we finally managed everyone at the end of the evening. We felt kind of ... not harassed I suppose, but every time we turned around, or happened to be talking away, a flash would go off. There were far too many photos of us with our mouths full.

Cake!

our cake was amazing.




This photo shows the colour best - whitewhitewhite on white




This one shows the detail - the As You Wish

The mini cameras on the tables were a great idea, I'm glad we only got them developed on to cd because they're probably not worth getting printed, but they sure are amusing :




my Aunt Adrienne and Sister Dominica Knox (a relation and a nun)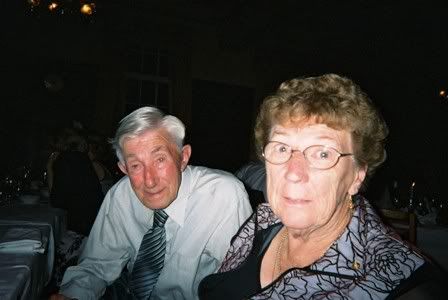 Craig's Grandad and Step-Grandma (Aka Eleanor)




The Main Family (cousins of Craig's). That blonde kid (Laurence) or the girl (Claudia) were making the peace sign in every single table-camera-photo I swear.




Amanda and Kieran.
Kieran was the best man chugging vodka, Amanda had her own flask as well, she came over just after dinner and had one of those "Why do you never talk to me? Do you find me intimidating?" kind of talks at me.




Susan Davies and Noel.
Susan is Craig's childhood crush, she's Kieran's sister and very nice, smart and pretty. Noel is the guy who was in the demolition derby and ended up breaking his leg. We had to have chairs around for the ceremony for 4 very old people, one very pregnant lady, and one Noel.




Martin. He works with Craig.
These are incriminating photos, I swear.




a more normal one of Martin and his wife, Raewynne.




my beautiful cousin Rose.




wedding cake! all cut up and so so good.
Why don't I have a photo of it all in one piece? I know I have them, just not on the internet.




my Aunt Jenny and Uncle Ron, the MC who knew Craig's Dad years ago.
Note the alcohol flush - it was getting on in the evening.




Parents-In-Law




The Williams Family! Martyn, Trish, Anna, Sara. Martyn had just recently shaved off a moustache that he'd had for 27 years. I almost didn't recognise him! except not really because it's only a little bit of hair missing.




adorable adorable babyface nicholas. Oh, and his Dad, Joel.




Charlotte and Conor

I accidentally sat the Irish club friends and family down the end of the room with the photos of the Queen and Prince Phillip ... it would have been much more amusing if I'd done it on purpose ... actually now I think about it, I think I did. Ha.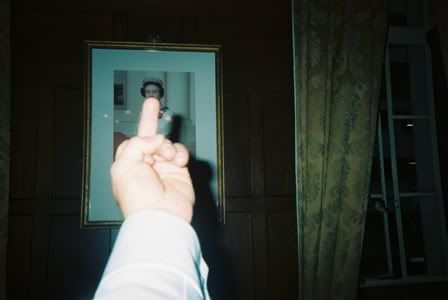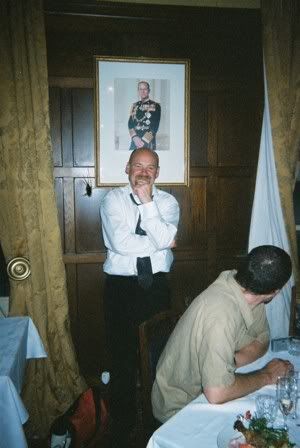 While Chris filmed, Rajeev wooed




Mary and Kat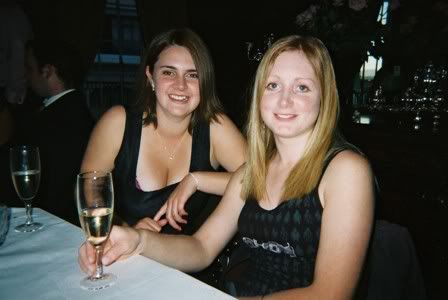 Petra and Mary




successfully wooed? no, she knows all his tricks.




Elwyn (the defacto partner of my heavily pregnant cousin. He asks what she wants for christmas and she says "A HUSBAND") and Craig and I trying to fix the computer.




and again.
I look so sober but really I'm going "craig? I can't ... get ... the ... thing ... to ... thing" and going all over the place with the mouse.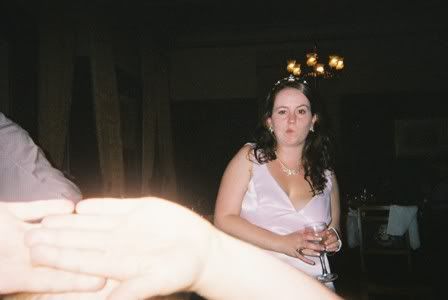 note the wine glass in my hand.

We ended up dancing.
I abandoned the shoes that killed my feet and found that dancing drunk, in barefeet and a long flowy skirt, on thick, bouncy carpet is pretty much the best thing ever, and you feel about six years old.
Lots and Lots of people danced, well, more than I thought. My sisters and Irish club people and Kat and Rajeev and Mary and my Mum, Kieran and Amanda, Craig's Aunt Lynny and cousin Claudia, Craig and his brothers came into the room but ended up standing at the side.
Craig actually did end up dancing with me for a little bit (I think that makes it 6 times?) to Love Shack by the B-52s. Ha! which actually was the song my cousin Kirsten and Adrian had as their "first dance". Craig and I just didn't do it the traditional way.

They turned off the liquor at 12, but said we could stick around until 12:30.
We ended up using that time to make sure we had everything organised, and made it up to our room at about 12:45am ....

The next morning we woke up when the alarm in the room went off BEFORE 7:30. GAH.
Craig was back asleep instantly, while I (because it was on my side) had to make sure that I'd hit Off and not Snooze. I did get back to sleep, and did so for another hour and a half.

I got up about 10 minutes before Craig did - I think I woke him with my muffled screaming and lurching about the room. My calves were punishing me.

We woke up blearily and got everything ready to leave.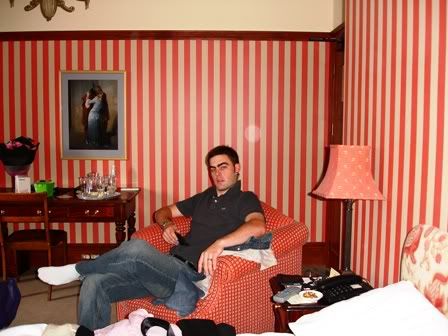 The first photo I took of my husband. hungover in the honeymoon suite.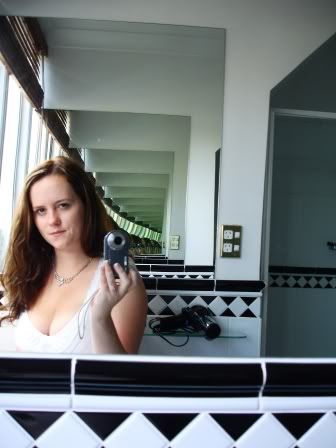 playing with the mirrors in the bathroom.
Wearing jewellery from the day before, but washed out curls.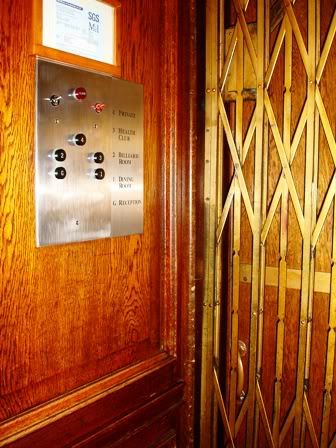 We took the elevator down to the lobby so we could have breakfast, and who was writing a note for us? My parents. So we said hello to them (quietly, quietly) and they took a car full of presents cake and roses home for us.
(I had peaches for breakfast)

It took only one heavily laden trip to get all of our stuff (suitcase, suit in bag, wedding dress in bag, bag of other clothes and flowers flowers flowers) downstairs and in to the car.
Craig packed all the stereo gear into the car, I was relegated to holding the boot open and looking after the flowers.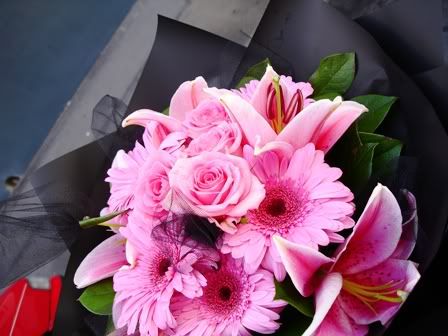 One last look at the wellesley




and we were on our way home as Husband and Wife.

(So naturally our first stop was at my parents house)

We picked up all the presents and went home.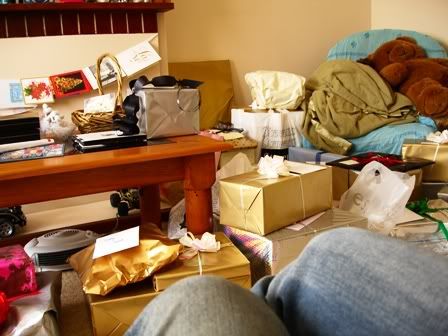 presents presents everywhere.
and almost better than presents we had roses everywhere!

my bouquet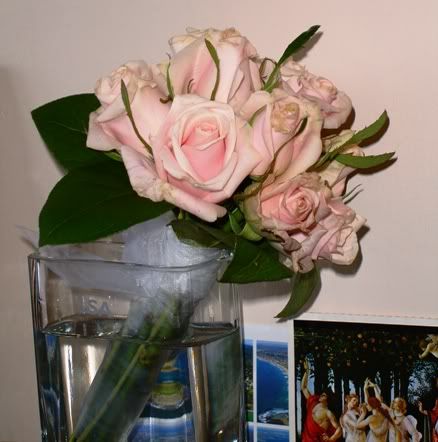 and the leftover Long long long stem roses from the table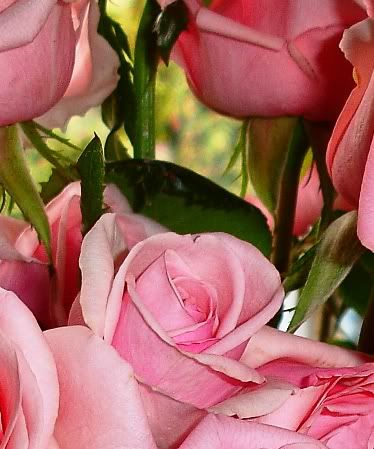 (that's the pink colour I was worried that my bouquet would end up being)

It felt as though there was no real end to the wedding at that point, nothing concrete that is.

on the 15th we opened presents and went to a lunch with Craig's side of the family - I got badly sunburned and by the end of the day I was exhausted, sore, cranky and sick of the sly smiles and "Mrs Burke eh?" there's only so much one can take.
One pretty cool thing - the Burke family archivist was at the lunch, and I had to give her all of my details because now I'm part of the Burke family tree.

on the 16th Craig and I spent the day running errands. We visited his family in the morning and got digital photos from his dad's camera, and talked about wedding ring inscriptions - his parents just have their initials and the wedding date.
We dropped off all the suits back in Wellington, running into Yvette (who I worked with at Subway Lower Hutt) on the way, so it was pretty cool being able to say "oh hey Sarah, what've you been up to?" "oh, you know, working, getting married, stuff like that"

Finally we spent the afternoon clearing out all of our old plates, mugs, bowls etc and replacing them with a sparkling new white 8 piece dinner set. all new.

Craig spent the day calling me his "wifey", and in the evening I went to a barbeque with my cousins (while craig bowled and had fish n chips with his)
and the most exciting part was this conversation
Sarah : Jayne, can you listen out for someone at the door please?
Jayne : ok, is Craig coming round?
Me : yea
Random Little Girl : Who's Craig?
Sarah : My ... Husband ... that was weird ...
- the first time I called Craig my husband to a stranger

The 17th was spent packing for our Honeymoon ...